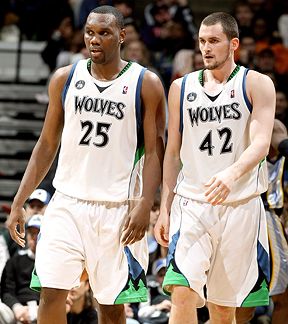 David Kahn signed the final piece of the puzzle yesterday afternoon (guard Sasha Pavlovic) and something tells me it's going to be an especially long winter in Minnesota. Al Jefferson and Kevin Love are solid as a rock, but the rest of the roster? Not so much…
10) Wayne Ellington – a nice young player, but unlikely to contribute very much in his rookie season
9) Ramon Sessions – The one positive move Kahn made in a horrific, horrendous and hellacious three months of wheeling and dealing
8) Jonny Flynn – A point guard that just oozes potential. The minutes will be there, but it will take time for Lil' Jonny to develop
7) Ryan Gomes – Has shown flashes of brilliance, but needs to be more conistent or won't be more than an NBA journeyman
6) Sasha Pavlovic – Kurt Rambis probably just wanted someone on the roster that reminded him of Sasha Vujacic
5) Ryan Hollins – Career averages of 3.2 ppg, 2.2 rpg and .7 bpg. This was Kahn's big frontcourt free agent signing?
4) Corey Brewer – A talented athlete (particularly defensively), but injuries have held him back
3) Chucky Atkins – At the end of the line and unlikely to be in the league next season
2) Antonio Daniels – Ditto for Daniels. Barring a late season trade, AD is likely to finish his career in Siberia
1) Mark Blount, Brian Cardinal, Damien Wilkins & Oleksiy Pecherov – One of these guys will be the 12th man. Does it really matter?
Ladies and Gentlemen…your 2009-10 Minnesota Timberwolves!!
In addition to writing for Sir Charles In Charge, Drew is also the lead blogger of Pacman Jonesin'
Tags: Al Jefferson Jonny Flynn Kevin Love Minnesota Timberwolves