My name is Patrick Crawley (a.k.a. The Basketball Fiend). I'm new to the FanSided roster, but I've been the managing editor over at Basketball Fiend for a year. I'm looking forward to contributing to Sir Charles in Charge and working with great writers like Andrew, Justin, Drew, and Adam. Check out my first contribution to SCIC below and, if you like it, head over to Basketball Fiend for more NBA content.
Like the week before a high school prom, most of the premium talent in the NBA free agent pool is already spoken for. The hottest prospects are making plans for plush limos and prime dinner reservations with the riches of dates (Boston, Orlando, Los Angeles, and Dallas), while a few, some would say, sneaky-hot potentials are still out there, waiting for an offer.
Detroit, Toronto, and Portland have already offered bids, but there are plenty of other suitors out there, sitting by the phone with sweat on their palms, waiting for the right moment to make the call.
Ah, courtship. The thrill of it isn't gone yet.
In honor of all the sneaky-hot prom girls out there (no, I'm not being pervy, I'm just making an analogy), here are the Top 5 restricted free agents left on the NBA free agent market.
1. David Lee
Last week I equated David Lee, in a free agent sense, to the Gisele Bundchen of free agent power forwards (Paul Millsap, who recently received a qualifying offer from Portland, was the Bar Rafaeli to Lee's Bundchen if you're curious). Lee hasn't received an offer yet, but I stand by that reference nonetheless.
The 6'9″, 249-pound forward is a great catch for any NBA team, especially ones looking for a rebounding forward with more daily doubles than Alex Trebek. (Ahem, Oklahoma City.)
In 2008-09, Lee averaged 16 points and 11.7 rebounds, shot 54.9% from the floor, and had a PER over 18.0 for the third consecutive season (John Hollinger, I use it here, but this will not become a habit with me).
Lee is endearing not just for his rebounding and his high level of efficiency, but also because of his work ethic. He is a maniac on the hardwood. He fights for rebounds, dives for loose balls, and does the kind of workmanlike things that make fans appreciative, not disenfranchised. (Shout out to LeBron. Release the tape, buddy.) Lee is as much of an asset off the court as he is on it.
He's also star-crossed.
Not so much by fate, but by a weak free agent market.
In the end, Lee is likely to return to the Knicks. (The equivalent of the girl-next-door type who pines for a dream date, but ends up going to prom with a friend. Think Pretty in Pink minus the foreign exchange student.) He'll be happy regardless of where he lands, but as basketball fans we'd rather Lee find a better home.
(C'mon, Sam Presti! Make it happen.)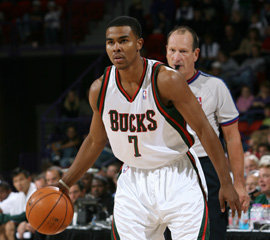 2. Ramon Sessions
Ramon Sessions is the high school equivalent of the doting girlfriend who gets dumped by her bonehead boyfriend when a hot piece of ass makes a play at him. (The hot piece of ass in this analogy? You guessed it! Brandon Jennings.)
Sessions did everything Milwaukee asked last season, averaging 12.4 points and 5.7 assists while shooting roughly 45% from the field and maintaining a 3:1 assist-to-turnover ratio. He created for his teammates (when he was on the court, he assisted on roughly 34.6% of teammate FGs) and got to the line often (4.1 FTA/game, pretty high for a PG).
At 6'3″, 190 pounds, Sessions isn't the best defensive point guard in the basketball universe. But he's not awful either. (His 109 defensive rating is better than Jason Kidd's and Kidd just signed a new three-year, $25 million contract.)
Despite his stellar performance in 2008-09, Sessions has been treated not with gratitude by Milwaukee, but with tolerance.
First the Bucks drafted Jennings (giving the team three potential point guards if you consider Luke Ridnour), then they extended Sessions a qualifying offer (retaining his rights as a restricted free agent, but limiting his bargaining power with other teams), and now they're playing the wait-and-see game with him, essentially leaving him to twist in the wind while they evaluate Jennings in the Summer League.
Though Sessions is being treated poorly, he doesn't seem to have many options beyond waiting around for the Bucks to make a decision. (Either that or his agent just isn't working hard enough to secure a deal from another team.) This makes him the most pitiful of dumped, doting girlfriends; the one in transition who doesn't quite know how to get back on her feet. The one hanging around waiting for some asshole to take her back.
Rather than feeling sorry for Sessions, though, you should be proactive. Get on your team message boards, post on blogs, write letters to your GM. Do everything in your power to get Sessions on your roster.
Why?
Because he's going to be a steal next year. That's why.
You know what they say about a woman scorned, right?
(And, no, I'm not implying that Sessions is a woman. I'm implying that he's going to rip it up next season. Now go post 1,500 words on his 34.6% assist percentage.)
3. Marvin Williams
Marvin Williams is on the verge of a lucrative five-year contract with Atlanta, so I won't spend too much time speaking on his behalf. (He's obviously valuable, or else the Hawks wouldn't be offering him upwards of $35 million.)
What I will say is this: Marv Williams is the NBA equivalent of the girl who's pretty in middle school, hits an awkward phase freshman and sophomore year of high school, then slowly morphs into one of the hottest girls in school by her senior year.
In other words, he's the NBA version of the slow-to-make-good hot girl.
In college, Williams was a hot prospect. He played well in one year at UNC, helped them win a national title, and looked to be the most promising freshman in the nation. (Which led the Hawks to draft him above Chris Paul in 2005.) But in his rookie season, Williams played poorly and looked like a bust. Then last season, after a few years of transition, he shed the braces, stopped wearing baggy jeans, and turned into a legit NBA starter (one who shot 45.8% from the field, averaged a 13.9-6.3, and played good defense).
Williams took forever to make good on his potential, but now he's blossoming.
At 6'9″, 230 pounds, he's the kind of player who can one day guard the opposing team's best perimeter player, earn easy points in the lane (he gets to the line 4.7 times per game), and hit open shots (his shot has come a long way).
Williams will forever live in the shadow of Chris Paul. (The Scarlett Johansson to Williams' Leighton Meester.) But he'll enjoy a solid NBA career and will continue to contribute to Atlanta's success.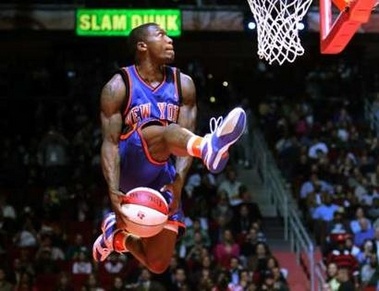 4. Nate Robinson
KryptoNate is the kind of NBA player who kowtows to no one. He's going to play his brand of basketball (which is, admittedly, entertaining) whether his coach wants to see it or not. That means lots of flash, little defense.
This quality has endeared Robinson to fans and relegated him to Mike D'Antoni's doghouse.
But regardless of the situation, KryptoNate is going to be KryptoNate.
In terms of high school comparisons, Robinson is the girl who is good-looking but puts zero effort into her looks. If she took time to work on her appearance, she'd look amazing. But she doesn't have time to work on her flaws. Other interests are more important. (Sports, debate club, schoolwork.)
When it's time for prom, she has no expectations. If someone likes her for her, he'll ask her out. If not, he's not worth her time.
That's how Nate Robinson is.
If teams want him on his terms (13.9 shots, 17.2 points, 4.1 assists, and 1.9 turnovers per game), he's glad to go there. If not, he could care less. Another team will materialize with an offer. (Or so he believes.)
Knicks GM Donnie Walsh is reportedly at a good point in negotiations with Aaron Goodwin, Robinson's agent. So Robinson seems likely to return to New York for at least another season. (To the chagrin of Coach D'Antoni.)
Look for Robinson to provide highlight reel-worthy plays, quality ball-handling, poor shot selection, and minimalist defense (you know, the usual KryptoNate qualities) in his intriguing, if-only-he-can-put-it-all-together way.
Ultimately, he'll be entertaining but disappointing. (Not that fans in New York mind. It's all about 2010.)
He'll play Nate-ball. He'll like it. And maybe, if the fans are lucky, he'll bring another Slam Dunk title to Gotham.
5. Hakim Warrick
Hakim Warrick is an interesting case. He's liable to have a great game one night (he was always devastatingly good against Sacramento last season), a mediocre one the next.
Warrick's stats (11.6 points/5 rebounds per game, 49.1% FG, 4.6 FTA per game) are sturdy yet unspectacular. They also warrant something just short of skepticism. If for no other reason than the constant fluctuations that eventually form the mean.
In terms of prom invites, he's the equivalent of the high school mystery girl.
You know the mystery girl. Some days she's spectacular. Looks great, says the right things, wears a sexy outfit. The next day she's completely ordinary. Looks like any other girl in a crowd, is boring, wears something that reminds you of a trainwreck.
Ultimately, though, Warrick is more suitable for teams than guys like Big Baby Davis (as much a candidate for Contract Year Performer as anyone I've seen in the NBA), Raymond Felton (poor shooter, liable to turnovers, hasn't improved a lick in four NBA seasons), and Linas Kleiza (poor rebounder, mediocre defender, doesn't get to the line).
The Grizzlies offered Warrick a qualifying offer in June, but they recently acquired Zach Randolph in a trade with Los Angeles and seem to be grooming second-year PF Darrell Arthur for more minutes, so it's unlikely that Warrick will be back in Memphis next season.
Sacramento has a habit of signing players that have torched them in the past (think Mikki Moore), so the Kings are a potential option for Warrick. As are the Heat, Thunder, and Celtics (which still has its $1.9 million biannual exception to work with).
It's pure conjecture, but I expect him to end up with one of those four franchises.
Tags: David Lee Hakim Warrick Marvin Williams Nate Robinson NBA Free Agency News On The Market Ramon Sessions Restricted Restricted Free Agents Which Free Agents Are Left?