Giannis Antetokounmpo has taken over as the best player in the world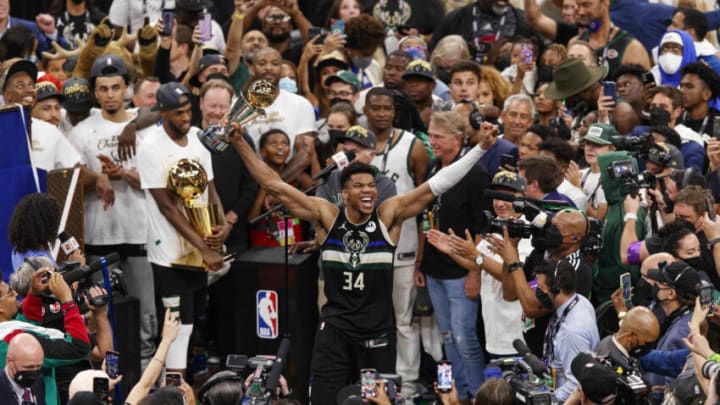 Milwaukee Bucks Giannis Antetokounmpo (Jeff Hanisch-USA TODAY Sports /
Giannis Antetokounmpo is coming off one of the most dominant performances in NBA Finals history. 
Giannis Antetokounmpo has just completed one of the most dominant NBA Finals performances in history en route to an NBA Title. Giannis averaged 35.2 points, 13.2 rebounds, 5.0 assists, and 1.8 blocks per game on 61.1 percent shooting from the field in six Finals games, earning him Finals MVP.
Giannis has realized he's too strong and for smaller defenders and too big and agile for larger defenders. There is no other player in the NBA quite like Giannis because of his unique blend of agility, athleticism, speed, force, length and will to win. Anthony Davis of the Lakers would be the closest comparison, but he doesn't move as fluidly as Giannis or have his quickness.
Is Giannis the best basketball player in the NBA at only 26 years old? From the eye test its a yes because of his boundless energy and ability to dominate in the paint. Here is my criteria for best player and Giannis leads the league in many of these categories.
More from Sir Charles In Charge
Why Giannis Antetokounmpo is the best player in the world
1) Best defender
Giannis has proven to be the most versatile defender in the league with his ability to protect the paint and guard on the perimeter. His amazing blocks on Deandre Ayton, Mikal Bridges, and Devin Booker will forever be etched in NBA Finals lore. Giannis can also get low in a defensive stance and stay with smaller guards with his agility while also having the length to contest their shots.
2) Plays the hardest
No other player plays as hard as Giannis on both ends of the floor. Playing with a child like joy and exuberance, Giannis gives his all to try and stop the other team from scoring and offensively dominates in the paint with a relentless approach when attacking the basket.
3) Most physically gifted
No other player is as blessed physically as Giannis is. Giannis is 6-foot-11 with a 7-foot-3 wingspan and a 40 inch vertical. Giannis wears size 16 shoes and has the third largest set of hands that the league has ever seen at 9.85/12 inches. Beyond his physical attributes his mental approach allows him to take full advantage of these freakish gifts.
4) Most skilled
Players like James Harden, Luka Doncic, Kevin Durant, LeBron James and Stephen Curry are more skilled. However, each season Giannis comes back better with more skills and that trend should continue going into next season.
5) Best shooter
Stephen Curry is the best shooter. Giannis is still working on his outside shot, but can still dominate by attacking the paint and not settling for jumpers.
6) Best teammate
Giannis is the best teammate because he includes everyone and treats every player with the same level of respect regardless of their role on the team. All of his teammates say he's a better person than a player which goes to show how well he treats others and gives them the confidence to succeed.
7) Best leader
Giannis may not be the clear cut top leader, but could be considered top 3 along with LeBron James and Chris Paul. Giannis really showed his leadership when he went down with an injury and continued to be vocal and engaged helping the team's morale as they were able to close out the Hawks. While he was physically absent from the court, mentally he was fully engaged with his team which takes a certain amount of selflessness and perspective.
8) Best passer
Players like Luka Doncic and Nikola Jokic are better passers. Giannis is a willing passer, but usually attacking the basket and getting a layup or free throws is a better shot than passing to a teammate. Give credit to Mike Budenholzer for tweaking his offensive system. Budenholzer often went small taking Brook Lopez off the floor which gave Giannis more space to operate in the paint. Budenholzer also encouraged the wings to crash the boards for offensive rebounds.
9) Best rebounder
Giannis could be considered the best rebounder, although there are great rebounders. Giannis lead the postseason in rebounds with 12.8 and was tied for 7th in the regular season with 11 rebounds per game. A top 5 rebounder along with Clint Capela, Rudy Gobert, Russell Westbrook and Joel Embiid.
10) Most efficient scorer
Giannis is the most efficient scorer in the league because of the volume of shots he takes around the basket and his ability to get to his shots regardless of the defense. Giannis shot 56.9% from the field in the postseason while averaging 30.2 points per game. That is incredible efficiency especially when the defense is geared to try and stop Giannis.
11) Best transition player
Giannis is the best transition player in the league because of his long strides and ability to attack the rim with force. This was on full display in Game 5 when following Jrue Holiday's clutch steal on Devin Booker, Giannis bolted down the court and slammed home an alley-oop to help seal a huge road victory.
12) Best paint scorer
Giannis is the best paint scorer in the league. He is the most dominant player since Shaquille O'Neal. While Shaq dominated the paint with sheer force and brute strength, Giannis dominates with agility, length and aggression. Giannis is agile and fierce around the rim. With a variety of spin moves, euro steps, hook shots, fadeaway jumpers and dunks, Giannis can go around or through you en route to dominating in the paint.
13) Best mid-range shooter
There are better mid range shooters such as his teammate Khris Middleton who hit multiple clutch mid range jumpers to help the team win close games. Kevin Durant, Chris Paul, Devin Booker, and Kawhi Leonard are all midrange masters. However, Giannis has developed a turnaround jumper in the post that has proven effective and difficult to stop.
14) Best 3-point shooter
Stephen Curry and Damian Lillard are better 3-point shooters. However, Giannis has made steady progress in this department and took over three a game in the postseason. This is something else that makes Giannis so relatable and beloved. Giannis is not afraid to fail or look vulnerable on the court. Whether its air balling free throws or missing threes, Giannis continues to shoot those shots in order to give the defense different looks. He shot only 18.6 percent from 3 during the postseason.
15) Best free-throw shooter
There are many players that are better free throw shooters. Giannis only shot 58.7 percent from the line on 9.8 attempts per game in the postseason. Giannis doesn't get discouraged when he misses free throws, instead he continues to attack the paint because he knows that the team is better when he's aggressive.
Giannis made them in Game 6, going 17-19 from the line to put up 50 points. In the closeout game when the rest of his team looked petrified offensively, Giannis carried them scoring 50 of the team's 105 points. He constantly put pressure on the Suns' interior defense either scoring inside with a variety of moves to the basket or getting to the free throw line.
The Suns had no answer for him in what was a close game throughout. He also played great defense on Devin Booker even blocking his shot a few times. In 42 minutes, Giannis ended up with 50 points, 14 rebounds, two assists, and five blocks while shooting 64 percent from the field.
16) Most dominant player
Giannis is the most dominant player because of his activity around the rim on both ends of the court. Giannis can at times look unstoppable and make the game look easy. He cannot be guarded one on one and it takes a team concept to try and stop him. The Suns just didn't have the personnel to matchup with him and Giannis took full advantage of a slow footed Deandre Ayton and a shorter Jae Crowder.
17) Best work ethic
Giannis has the best work ethic in the league. When Giannis was drafted 15th overall in 2013 no one really knew how amazing he could become. But, through hard work and honing his body into a physical powerhouse Giannis became the Greek Freak. Giannis wasn't satisfied after being named MVP because he wanted to be a champion and now he's already thinking of ways he can get better in order to win more NBA Titles. Giannis is only 26 and is still getting better and will continue to work hard to reach his full potential.
18) Most loyal superstar
Giannis is the most loyal superstar because he has fully embraced Milwaukee and took the franchise from the depths of the NBA to the pinnacle of basketball. While other superstars like Kawhi Leonard, LeBron James and James Harden switch teams, Giannis remains loyal to the Bucks and may even play his entire career there.
19) Biggest "wow" factor
Giannis has the biggest wow factor from watching him play. Giannis can make plays that no one else can offensively and defensively as he continues to excite fans with his gravity defying displays of athleticism. That wow factor was on full display with his legendary block on Deandre Ayton, his alley-oop from Jrue Holiday and his chase down blocks on Mikal Bridges.
20) Highest approval rating
Giannis is the most popular superstar in the league. Players like LeBron James, James Harden, Kevin Durant, Kawhi Leonard, and Ben Simmons all have some type of baggage associated with them. Giannis has no controversy or ill will associated with him. Giannis is a great role model with values like humility, respect and hard work as central tenets of his being. His global popularity will continue to skyrocket after leading the Bucks to the NBA Title.
21) Best two-way player
Giannis is the best two way player in the league because of his ability to effect both ends of the floor and change how the opposing team operates. Giannis is an absolute game changer and uses his length to protect the rim defensively and attack the rim with ferocity or finesse offensively.
22) Best overall player
Giannis is the best overall player in the league because he lead his team to the NBA Title after dealing with some adversity. First, starting shooting guard, Donte DiVincenzo went down with an injury in the First Round.
Later, they were down 0-2 to the Brooklyn Nets and came back to win a Game 7 on the road in overtime to advance to the Conference Finals. Giannis then went down with a hyperextended left knee in Game 4 against the Atlanta Hawks with the series tied at 2-2. The Bucks won the next two games without Giannis to advance to the NBA Finals.
The Bucks then went down 0-2 against the Suns before coming back to win the next four games and claim the Bucks' second NBA title. The Bucks last won 50 years ago in 1971. Giannis also completed this dominant Finals performance at less than 100 percent because he still wasn't fully recovered from that hyperextension. With this truly amazing display of dominance Giannis is now cemented as the best player in the NBA without a reliable outside shot.
Out of the 22 categories, Giannis was the leader in 14 of them and top 5 in rebounding and leadership. The six categories where he wasn't elite in had to do with shooting and passing, but expect Giannis to continue working on his weaknesses and eventually turn them into strengths to become even more dominant. This list proves that Giannis is a superstar on and off the court and the best player in the game.
Outside of Giannis, Khris Middleton proved to be one of the best closers in the NBA with his clutch mid range jumpers that helped them win close games. Perhaps it was a sign of great things to come when Middleton started out the postseason with a game winner against the Miami Heat in overtime of Game 1. Middleton created his own shot when he stepped back into a jumper to help the Bucks get off to a great start in the playoffs. Jrue Holiday's defense on Chris Paul was also a huge factor in the Bucks winning the NBA Title.
While Chris Paul seemed like the most consequential offseason acquisition, it may actually be Jrue Holiday who bothered Paul and forced him into turnovers and tough shots. Paul is a free agent, so its not guaranteed that he'll return to the Suns. The Suns are left with questions about how they can improve and if their run was just a fluke due to significant injuries to their opponents' star players throughout the playoffs.
Bobby Portis and P.J. Tucker provided defense and energy giving the Bucks something they were missing in previous seasons. Brook Lopez played well in the minutes he was given and was huge for the team when Giannis went down with an injury. Lopez was usually on the bench at the end of games and understood it was for the betterment of the team to play small ball and be more switchable defensively.
Pat Connaughton hit clutch 3-pointers and got big offensive rebounds to help extend possessions while providing energy on both ends of the floor. Every player was a star in their role and the Bucks have an NBA Title because of it.
This feels like a seminal moment in NBA history because its the first championship won by Giannis who is part of this younger generation of players. This is similar to when the Golden State Warriors won their first championship in 2015 because it meant Stephen Curry, Klay Thompson, and Kevin Durant and this new generation of players were taking over the game. We're seeing the same theme now in this postseason with players like Trae Young, Luka Doncic, Donovan Mitchell, Ja Morant, Joel Embiid, Nikola Jokic and Jayson Tatum all have amazing performances throughout the playoffs.
During the natural cycle of time new players emerge and dominate the game. This was further illustrated by Giannis breaking through and achieving true greatness with the team he grew up with and stayed loyal to, the Milwaukee Bucks. Bucks in 6!