Former NBA Champion Iman Shumpert wins DWTS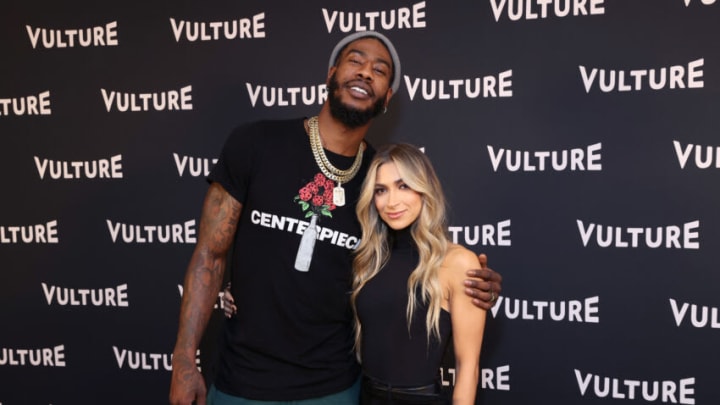 Dancing with the Stars partners Iman Shumpert and Daniella Karagach (Photo by Rich Fury/Getty Images for Vulture) /
Former NBA champion Iman Shumpert walks from Dancing with the Stars holding the 2021 Mirror Ball trophy.
Over the course of 16 years, 30 seasons, and eight former NBA players, Iman Shumpert became the first NBA alum to win the Dancing with the Stars mirror ball trophy. This achievement also makes Shumpert the first person to be both a DWTS (2021) and NBA (2016) champion.
The odds were stacked against Shumpert as he and his partner Daniella Karagach were up against JoJo Siwa and her partner Jenna Johnson in the finale. Siwa got her rise to fame as a dancer; facing her was essentially going against two professionals. Siwa also broke barriers by becoming the first contestant competing in the competition with a same-sex partner in Johnson.
Each season on Dancing, after weeks of practice and performance it always comes down to the grand finale, the freestyle. The freestyle is the final dance the top three couples perform in the contest. Think of it as the equivalent of clutch time in the playoffs.
While Siwa had the better overall season, her freestyle needed just a little extra punch. Shumpert on the other hand was better when it mattered most as he and Karagach shined in a hip-hop routine choreographed to the tune of Lose Control by the legendary Missy Elliot.
Shumpert and his partner executed their routine to near perfection, it garnered a standing ovation from the studio audience. Check out their full performance in the clip above courtesy of the Dancing with the Stars YouTube channel.
Other NBA Players to compete on DWTS
Clyde Drexler
Rick Fox
Metta World Peace
Derek Fisher
Lamar Odom
Kareem Abdul-Jabbar
Charles Oakley
In addition to becoming the first NBAer to win Dancing with the Stars, Shumpert became the first NBA player to make it to the top-three in the contest. Many former NBA participants went home in the first few weeks of the competition series with Fox being the lone exception making it all the way to week seven.
Teyana Taylor voiced support for her husband, congratulating him and his dancing partner on their victory via her Instagram account. Given Taylor's level of interest in the show and her own competitive spirit, do not be surprised if she makes her own appearance on the series for season 31.